Continual Professional Development
As with many professional bodies continual education and keeping up with the latest industry development is a necessary requisite of retaining your professional status. The same applies to PGA membership and the CPD programme has been offering specialist courses in every aspect related to the golf industry for over ten years.
Personally over 35 years ago I attended my first coaching related event hosted by the PGA at Moor Allerton Golf Club, Leeds. The Father of The European Tour, Ryder Cup player and Captain, legendary teacher, player, author and man responsible for modern-day coaching John Jacobs OBE presented his spellbinding coaching wisdom. Little would I know that some 25 years later he would return to his Northern PGA roots and kindly present for me at my own North Region PGA Coaching Conference.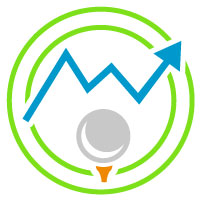 In the intervening years, I and many like-minded professionals prepared to 'go that extra mile' had to conduct our own research and travel far and wide to pick the brains of leading international coaches. Consistently the same keen and passionate coaches would bump into each other at various events discussing all they'd discovered and we're learning.
In the pre Internet, pre-email and early days of betamax and video it meant investing time and money to travel to the USA to observe leading coaches, subscribe to publications, import videos and convert them all in the name of learning your trade.
Studying America's Golf Digests young up and coming coaches like Hank Haney, Jim McLean, Jimmy Ballard, Jim Suttie, Davis Love Snr kept us abreast of their trends plus many of us doing a lot of coaching we're learning by doing and appreciated it was not all about the golf swing. Our interest grew in the physics of golf, biomechanics, psychology, fitness and club fitting.
Fast forward twenty-five years and personally I was frustrated collectively there was an absence of structured golf teachers events so in 1998 I instigated the North Region PGA Coaching Conference. Over the next three years at Drivetime, Warrington I organised and presented along with some illustrious coaches who very kindly supported the initiative. Eddie Birchenhough, Alan Thomson, Pete Cowen, Denis Pugh and the worldwide doyen of coaching John Jacobs OBE all shared their knowledge and experiences to in excess of 200 Professionals making this the forerunner to a now successful PGA National event.
From these events, a good friend and fellow PGA Professional David Colclough later initiated similar events in the South that many of us attended and David now heads up the world renown PGA educational coaching programme at The Belfry.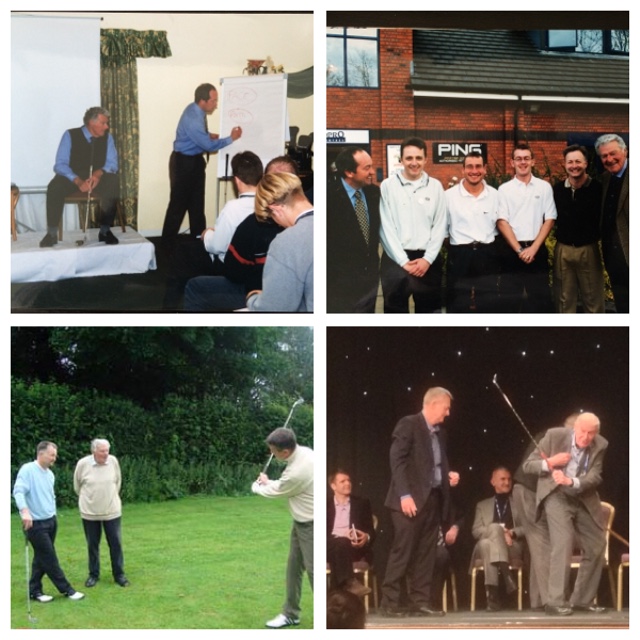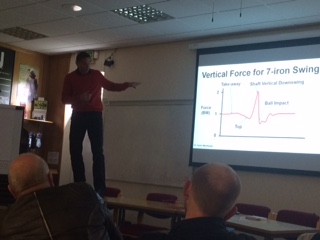 Personally, I undertook other event presentations and in 2008 also organised another North Region PGA Teaching Conference again receiving great support.
Over the years in search of anything that may allow me to assist my students with their game improvement I have attended as many CPD and other conferences as practical.
I like to consider the latest findings, methods and learning science in the hope I can be as well placed as possible to help people enjoy and play better golf.
I've been very fortunate to meet so many world-class specialists in the field of swing, fitness, psychology, short game, putting, junior coaching, neuroscience, biomechanics, launch monitors and more. All these topics are a necessary part of a serious coaches business use at the appropriate time in the appropriate dosage.
Below is a sample of many of the PGA CPD courses attended over many years.
2002 + 2003
National PGA Coaching Conference with Rob Neal, David Leadbetter & Ramsay McMaster

Body In Golf The Belfry Kitrina Douglas

Psychology in Golf  The Belfry Kitrina Douglas

Psychology for Elite Woodhall Spa Brian Mathers

PGA National Coaching Conference Butch Harmon, Michael Hebron, Denis Pugh

Dr Jim Suttie USA. LAWs of Golf – body types
2004 + 2005
Red Bull Masterclass Butch Harmon & brothers, Scott Cranfield and Guy Delaclave

Sam Putting Lab & Putting Science
2006 + 2007
National PGA Coaching Conference Dr Jim Suttie, Dave Phillips TPI, Bill Beswick

Geoff Mangum Putting Zone Clinic

Golf Biodynamics Biomechanics John Watson Stewart Cortstophine
2008 + 2009
National PGA Coaching Conference Bob Torrance, Sir Clive Woodward, Chuck Cook

National Coaching Success, England Team Coach Peter Matsson

Passion For The Short Game Gary Smith

Cheshire PGA Biomechanics and Tradition v Technology
2010 + 2011
Teach the Teachers The Belfry Ian Peek

Junior Golf Forum, Rudy Duran, Henry Brunton

Morad, Mac O'Grady Switzerland.

Neuro Science In Golf Michael Hebron
2011 PGA National Coaching Conference Martin Hall, Paul Hurion.
2012 + 2013
One Day Putting, Aimpoint and Dr Craig Farnsworth.

Target Oriented Golf C.Cormack

Golf IQ Mental Toughness Matthew Ellis

PGA National Coaching Event Harrogate Jim Hardy, Martin Hall, John Jacobs.
2014 + 2015
National PGA Coaching Event Harrogate Dave Pelz

Trackman Optimal Club Delivery Fredrick Tuxen

Golf Biomechanics Mark Bull

Golf Biomechanics Dr Mike Duffy Dr Sasho McKenzie

Trackman and Impact Andrew Rice